14 MAR 2013
NEW VM FLAVORS, HIGHER LIMITS, INCREASED FLEXIBILITY!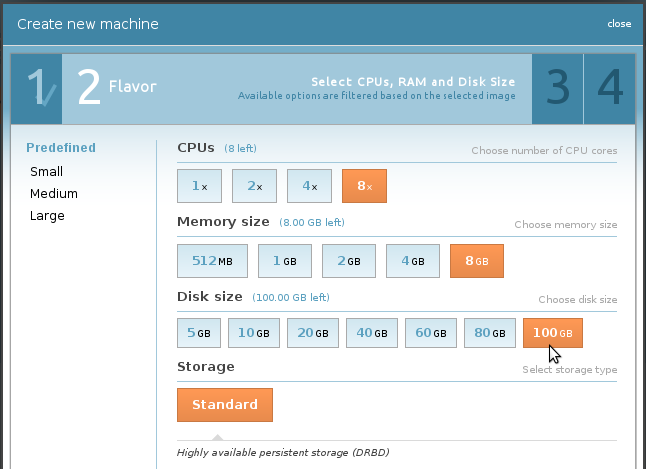 Hello everybody,
Starting today, new VM flavors are available at the creation wizard, that let you create VMs with more CPUs, more RAM and larger System Disks. As you may have already noticed at your "Usage" tab, and described in the
previous post
, we have also increased your limits with regard to RAM and System Disk to 8GB and 100GB respectively.
This means that you can now create up to 2 VMs that cumulatively take up to 8 CPUs, 8GB of RAM and 100GB of System Disk. Using the new flavors you can create various combinations for maximum flexibility. Finally, from now on, you can also see how many resources you have left right there in the wizard's tab. Without the need of going back to your "Usage" tab everytime you want to create a new VM.
Enjoy and use wisely,
the ~okeanos team
posted by okeanos on March 14, 2013, 1:07 p.m., filed under all , news , cyclades